I don't know why or what precipitated it, but recently I had a realization about my favorite childhood stories that seemed worthy of exploring. Namely, that my go-to movies as a child were . . . kinda dark.
The four movies I remember watching the most — like we're talking an almost constant rotation — are
Watership Down (1978)
The Last Unicorn (1982)
The Lion, the Witch and the Wardrobe (1979)
The Neverending Story (1984)
We had each of these movies on VHS. If memory serves, only Watership Down was a VHS my parents actually purchased for me. The others were taped off TV whenever a free trial of HBO had appeared on the cable box. (I now have all but one of them on DVD or Blu-Ray.)
This is not to say I didn't watch Disney movies (which were almost always quite dark in their own way, especially the old ones) or Looney Tunes (also dark . . . there are more suicide jokes than you're remembering). But when push came to shove and I was watching something on my own, these are the four movies from which I picked. My sister would join in on The Lion, the Witch and the Wardrobe, and occasionally on The Neverending Story, but she had little patience at the time for talking rabbits and unicorns.
And if I wasn't watching those movies, I was watching nature documentaries on VHS from National Geographic, which are, quite naturally, filled with hunting and death and infant mortality and hardship of many kinds.
Darkness pervaded my reading life as well, in the form of books like A Wrinkle in Time, which my son made me stop reading aloud to him when Meg sees the stars being swallowed up by The Black Thing, and Island of the Blue Dolphins, which my husband made me stop reading aloud to him when the girl's little brother dies.
This all came to me at once one day so that I knew I ought to mark it in some way. I thought that it might make a blog post, but then I didn't write anything for weeks and weeks and weeks. Because I didn't know what to say about it.
What did it mean? A few possibilities seemed to drift across the transom of my mind.
Perhaps these things seem dark because they were relics of an earlier age in entertainment. In the 1990s, the self-esteem movement began and children's programming turned into variations on the innocuous message that "everything's okay." I'm okay. You're okay. Problems are small and the world is bright and everything is bubble-gum and cotton candy and irritating little pop songs that make me want to kill, kill, KILLLLLLL!!! Miss Hannigan style.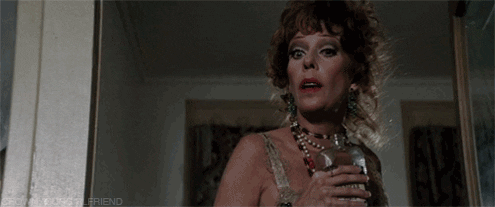 Perhaps because my life was easy and simple and full of light the only way to experience the full range of human emotions was to experience it vicariously through the travails of cartoon rabbits and animatronic luck dragons. Perhaps I was simply drawn to the great drama of good against evil. (Starting, again, in the the 1990s, nothing was evil. It was just misunderstood, and so you were supposed to feel bad for it, not fight against it.)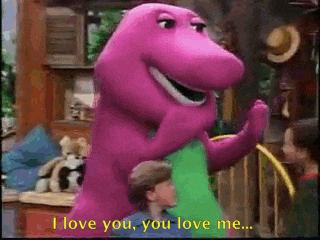 Whatever the reason, I apparently couldn't get enough of this…
Or this…
Or this…
Or especially this…
I've been thinking about and writing this post for days now, days when I am also reading Irish author Sara Baume's second novel, A Line Made by Walking. In one of my newsletters, I wrote about when I read her first book, Spill Simmer Falter Wither. I love that book. That rather dark book. And this newest one is dark as well — not in the suspensy-serial-killer-murdery sort of way, or the shape-shifter-vampire-paranormal-apocalypse sort of way, but in the real-life-and-all-its-complications-and-sorrows sort of way.
In A Line Made by Walking, the narrator is trying to work out her depression at her dead grandmother's home (and a better description of clinical depression I don't think I have ever or will ever read). Frankie takes pictures of dead animals, thinking that she can form it into some kind of artistic statement (she is a former art student). She's unhappy and anxious and occasionally near despair during the entire book. And yet, to me her story isn't depressing.
Dark is not necessarily depressing, though I can see why some people would look at my perhaps-odd choices in entertainment and think that they were. To me, dark is a necessary component of life on this earth, and it is the way in which we know light.
A photo with too much light and not enough dark and you lose the detail in the lighter elements.
A photo with too much dark and not enough light and you lose the detail of the darker elements.
It's when the light and the dark are at complementary levels that we get the clearest picture of reality, isn't it?
One of the reasons I write is to understand people in general and myself in particular. I want to understand the darkness that exists within us and the light we are striving toward. I want to understand why people do terrible things to each other. I want to see them reconciled. Without serious conflict, reconciliation is meaningless. Without deep hurt, forgiveness is meaningless.
So I suppose it's natural that, even as a child, I read books where children died and worlds were snuffed out by some dark power, and I watched movies where entire civilizations were consumed by The Nothing and countless souls were imprisoned in the sea by a maniacal king.
Because of course, in the end, there is always a ray of hope.
A single grain of sand that will become a new land.
A time of peace and prosperity when weary souls can rest and enjoy the result of their terrible sacrifices.
The release of a kingdom from the grip of an everlasting winter.
The freedom of the captives.
There are, in all of these stories, whispers and echoes of the ultimate story — the fall and redemption of humankind.
When A Line Made by Walking came to an end, Frankie was not "fixed" and "happy." That kind of ending would have betrayed the work itself. But there was something on which to hang just a little bit of hope for her. For all of us.